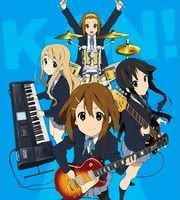 K-ON!
It's Yui Hirasawa's first year in high school, and she's eagerly searching for a club to join. At the same time, Ritsu Tainaka, a drummer, and her friend Mio Akiyama, a bass player, are desperately trying to save the school's light music club, which is about to be disbanded due to lack of members. They manage to recruit Tsumugi Kotobuki to play the keyboard, meaning they only need one more member to get the club running again. Yui joins, thinking it will be an easy experience for her to play the castanets, the only instrument she knows. However, the other members think their new addition is actually a guitar prodigy...
Type
: TV |
Episodes
: 13 |
Aired
: Apr 2, 2009 to Jun 25, 2009
Genres
: Comedy, Slice of Life |
Producers
: Kyoto Animation |
Main Cast
: Aki Toyosaki (Yui Hirasawa), Minato Kotobuki (Tsubuki Kotobuki), Satomi Satou (Ritsu Tainaka), Youko Hikasa (Mio Akayama) |
Director
: Hisako Yamada |
Original creator
: Kakifly |
Music
: Hajime Hyakkoku |
Character Design
: Yukiko Horiguchi |
Art director
: Seiki Tamura |
Chief Animation Director
: Yukiko Horiguchi
[IMPRESSIONS PER EPISODE AT HYPER PARFAIT]
[
4
][
5
][
6
][
7
][
8
][
9
][
10
][
11
][
12
][
13
]
~*See All Posts Related To This Series*~

[OVERALL IMPRESSIONS]


When I first watched this anime, I got quite bored with it probably because I was kinda sleepy. But it really caught my interest just because it's all about music. I am a big music lover and I am enjoying watching animes belonging on the music genre.

Since it's a music anime, of course, the songs are all also lovable and unique. Though the lyrics seems to be weird, it actually makes sense. I think I mentioned it before, but my favorite is Ballpoint Pen! I really love it, not to mention that it's Mio-chan who sang the vocals. I also love their other songs like Fuwa Fuwa Time where Yui did the vocals.

The friendship of the whole band is something that is worth to watch. Their bond as a group and as friends are strong enough that they were able to pass through obstacles together. Mugi-chan has been so helpful in all of their financial expenses, their after school tea, and their camp expenses. Ritsu gave life to their band with her crazy antics and wild personality. Azu-nyan and Mio-chan helped the whole band in directing their path as a band per se. And as for Yui, she helped in establishing the meaning of the Light Music Club and shared her experience to many people. Even though they have different personalities, they compliment each other, thus forming a good band.

I would love to be a part of the After School Tea Time. I don't know how to play any instruments but it is really interesting to join their band. After I finished watching Beck, it is only this time that I got interested and excited again.

So if you are interested with the basics of forming a band or if you are simply a music lover like me, K-ON is indeed a must watch!