This is a little overdue. I am suppose to post this last Wednesday but a typhoon came to the Philippines that caused a total blackout over our area. Things got settled down just now, and so does my posts.

Basically, there are three main things that happened in K-ON in this episode. First is Mugi and Ritsu's hanging out moments, second is Yui insisting that Nodoka is weird for eating the strawberry and third, the beginning of the senior's summer classes.

Well, first things first!



The places they visited are:



Arcade

Candy store




All of these places are something new for Mugi-chan and she is SO DELIGHTED to have gone to those places.

Let's skip Yui's problem first and discuss it later and focus on the third part of the episode.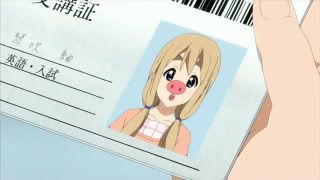 2. Sticked a pig nose sticker on her ID, to trick Mio that she is also messing up similar to what Ritsu did.





heart.