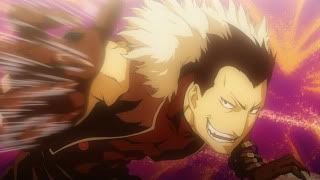 Greeedd! I miss this guy so much!!! :) He's greediness is so cool!
Episode 42: The Sign of a Counter Attack
Following Al's collapse, he soon wakes up and finds his body in pieces because that's how they carried him. Marcoh suggested to put him back together. This act gave a bright idea to May Chang to rearrange the research pages. Surprisingly, the arranged pages gives an image of a transmutation circle, the similar circle being used in the previous episodes. But Al though of flipping the pages over and saw a new circle, a circle that combines Alchemy and Alkahestry.
Meanwhile, Kimblee goes on with his search underground. There he talked to Pride who ordered him to carve a bloody crest at Briggs and put off Scar's search for now. Another scene also shows of Roy's men talking to phone, sharing information with one another about the recent happenings in their respective area. Sloth is also done in digging underground.
In Lior, Hoenheim arrives and met Rose. Hoenheim is so hungry and exhausted and Rose was kind enough to feed him. He asked for the locals to help him go to the underground passage under the former Leto church and found an area that is impassable due to dangerous waters. But Hoenheim can pass through. As he walk, a path way is being made so that he can safely cross the waters.
Hoenheim met with Pride for the first time and he guesses that Pride is limited only in moving inside the tunnel or else, he dies. The two had a little talked and eventually, Hoenheim passed a message through Pride that "Slave 23 will see him eventually. "
On Briggs, the Drachman army, influenced by Kimblee attacks the Northern Wall of Briggs. Also, Kimblee's men calls up Envy and Wrath to tell them about where Marcoh is hiding.