~ FMA is really not complete without its very usual crack and funny moments~
Who would have thought that the craziness of Ed and Al can help them to run away from Kimblee and his men? I never thought that they will use their extremely bizarre ideas to come up with a plan.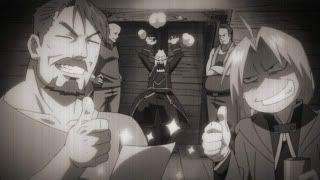 Anyway, Loki has his own side story this episode, which didn't get the attention of Ed, All and everybody else. But to be fair with him, it was really a LOLZ moment since he narrated the story his way and so Ed became the antagonist while he became the battered protagonist. H even tried to break in to the Armstrong house??!!!Hahahahaha.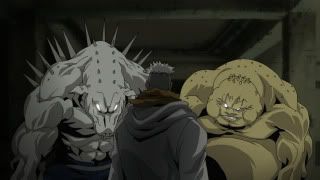 The fight scenes are really good and amazing thanks to Scar and the Chimera. Ed and Al also fought with them while pretending that they didn't know people like them. Apparently, these chimera are the escorts of Ed and Al that they ran away from. It was really funny when Ed and Al denied that they didn't know any monsters like them and they even acted really scared. But it it seemed really effective since they have a very lame excuse to beat up the guys.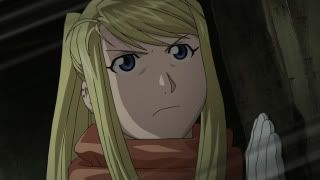 On a more serious note, Winry is really brave in this episode. She confronted Scar and asked him about the death of her parents but the actual conversation is not yet shown. I think the next episode would show more of it.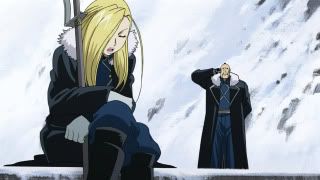 Buccaneer and his men were able to get back to Briggs alive and well, all thanks to Olivier who didn't seal the entrance. Personally, I think Buccaneer and Olivier had their share of the moment when he expressed his gratitude to her. But all of this came to end when some military men arrive.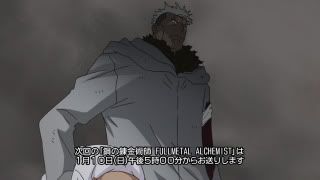 Back at the mining town, Kimblee is outside the building where all the commotion is going on, and Ed suddenly emerges from it and blames Kimblee for not watching after Winry. As it turns out, Scar is now standing on top of the building and is carrying an unconscious Winry.