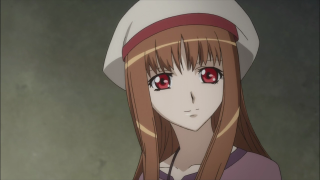 Episode 2: Wolf and the Silence Before the Storm
For this episode, Lawrence found someone who knows the legend of the city of Yoitsu.
This is a very interesting episode of Spice and Wolf. There is a little hint about the city of Yoitsu and Horo's past. But what entertains me the most is the jealousy of Lawrence after knowing that he and Horo would go around the town with Amati.

Lawrence also talked to Deanna Reubens through a fellow guild member Guy Bartose. Lawrence is very interested in knowing legends of the North, specifically about the land of Yoitsu, the village that was destroyed by the moon hunting bear. About its location, Deanna mentioned the village of Renose, a city famous because of its pelts and lumber. Legend has it that Horo of Yoitsu once came there and brought proseperity to the land. She is said that she came from deep forest in the east.

The ending is something that puzzels me as Lawrence ran off after hearing a message passed onto him by his merchant friend. The dialogue wasn't heard yet so I guess I'd better wait with the next episode to know the reason why.

There is also the siliness of Horo that I am so amused at. She kept on playing on Lawrence's emotion and would always tease him. It never fails to entertain me everytime Horo plays on Lawrence's innocence.