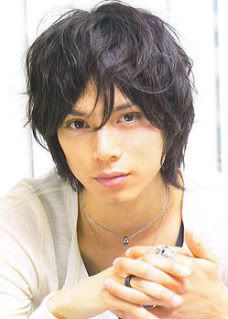 Celebrity of the Month:
Hiro Mizushima
Since pink_fairy10 is a bit busy with exams right now, she told me to post this on her behalf.
If you've watched Hana Kimi, then I am pretty sure that you have met our Celebrity of the Month, Hiro Mizushima. Hiro, born on April 13, 1984 is a model and actor. As I have said, he has played supporting roles in series like Hana Kimi, Watashitachi no Kyokasho where he both played supporting roles. He also played lead character in Kamen Raider Kabuto, Zettai Kareshi and Mei-chan no Shitsuji. He is fluent in English and has demonstrated it on several occasions during the course of his career.
His notableTV drama roles are:
Hana Kimi as Nanba Minami
Gokusen Season 2 as Hiro Misawa
Zettai Kareshi as Asamoto Shoshi
Kamen Raider Kabuto as Tendou Souji/Kusakabe Souji
On the schedule March 2010 live action movie of Beck: Mongolian Chop Squad, he is to play the character Ryusuke.
Just recently, this sexy and hot model is single no more as he is already wed to Ayaka, a singer-songwriter.
He does look like Jun Matsumoto right? That's my first reaction when I saw him at Hana Kimi. But I got to admit that he looks cute and cool too. I actually haven't heard him sing so I look forward as he plays to the role of Ryusuke in the upcoming Beck live action movie.