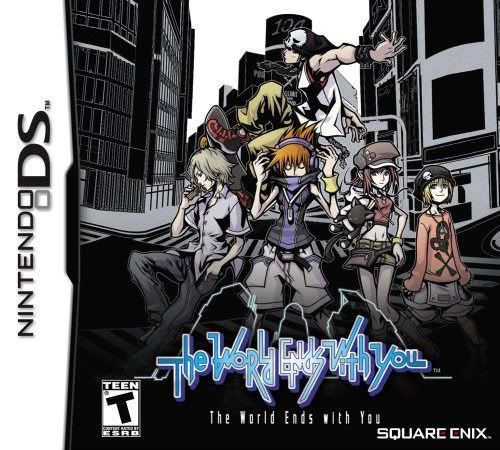 The World Ends with You, released in Japan as It's a Wonderful World (すばらしきこのせかい Subarashiki Kono Sekai, literally "This Wonderful World"), is an action role-playing game developed by Square Enix's Kingdom Hearts team and Jupiter for the Nintendo DS handheld console. Set in the modern-day Shibuya shopping district of Tokyo, The World Ends with You features a distinctive art style inspired by Shibuya and its youth culture. Development was inspired by elements of Jupiter's previous game, Kingdom Hearts: Chain of Memories. It was released in Japan in July 2007, and in PAL regions and North America in April 2008.

In the game, Neku Sakuraba and his allies are forced to participate in a game that will determine their fate. The battle system uses many of the unique features of the Nintendo DS, including combat that takes place on both screens, and attacks performed by certain motions on the touchscreen or by shouting into the microphone. Elements of Japanese youth culture, such as fashion, food, and cell phones, are key aspects of the missions.

The World Ends with You, a.k.a., TWEWY, is one of the most beloved games of Nintendo DS owners who follow Square-Enix games. It was very surprising that Square-Enix actually stepped out of their setting comfort zone where they usually have the setting in a fictional land, into a real location -- Japan's fashion and shopping district: Shibuya. As much as people poke fun at some of the elements in the game (i.e.: Emo lead character with gravity-defying hair, anal-retentive item customizations), Square-Enix and Jupiter pulled all the stops in story and gameplay which makes the game a gem in one's DS game collection.

The game fully utilizes the control of the touch screen, by letting players control Neku either by stylus or control pad (or the A,B,X,Y buttons for lefties). Battle happens in both screens, which can be confusing -- especially if you incorporate all of the battle elements in, but this makes the game most challenging.

Also, one feature I like most in the game is the Shutdown PP mode, where players can actually level up their pins when they turn off the game for a while -- this actually encourages players to rest from gaming -- something that is more often than not is forgotten by avid gamers.

Aside from the exceptional gameplay, the story, art and even music are just fantastic, and the incorporation of Shibuya landmarks and lifestyle is definitely a plus.

So, to Nintendo DS gamers who haven't bought this game yet, I absolutely recommend that you
buy this game
-- it's a very worthy addition to your NDS game collection.