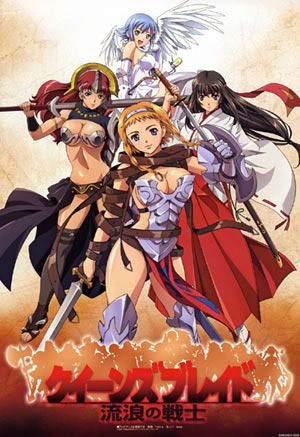 Every four years the competition that will decide who the next Queen shall commence. The strongest warrior will continue to rule the country according to tradition and expand it. They need not be human, intelligent or even of that country. The rules for the tournament are simple: murder is allowed. Any weapon can be chosen. The winner is decided when one of the participants flees or can't move anymore. Such event is broadcasted trough a crystal sphere by the court's magic teacher to all population to see and enjoy.
If you look at the anime poster long enough, you might notice that there may be some fanservice involved. Well, you're right. Queen's Blade ~Rurou no Senshi~ is based from a fantasy book game by Hobby Japan. It's ecchi, so those who are not fans of fan service and loads of oppai should steer clear from this one. I've only discovered about the series because of the awesome figures that have been posted by Danny Choo -- which made me look into the series.

The setting is in some medieval kingdom -- which is a staple for this kind of plot. But the demons here are... let's just say more or less unique. But then again, this is an ecchi anime we are talking about.

Animation-wise, it's very good, and the plot can actually be great if worked on, and they have decked in star-studded seiyuus, including Hirano Aya, Tanaka Rie and Kitamura Eri to name a few. Although I must say that lacking a dolphin makes me not appreciate the excessive
oppai
, I'm willing to see a couple more episodes before deciding if I should drop it completely or not.
Queen's Blade ~Rurou no Senshi~ has started airing in Japan last April 02, 2009 and lasts for 12 episodes. I might post a review if I do decide to give the series a chance.