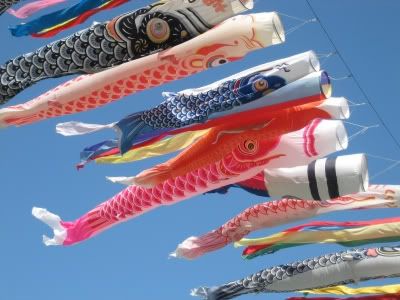 Koinobori or Carp streamers that Japanese hang up during the Children's Day, a holiday that falls during the Golden Week.
Hey all! It's my turn to post the house special of the week and I chose to feature the longest holiday in Japan, the Golden Week! Golden Week is special for me since May 5 is my birthday and coincidentally, it's also the Children's Day in Japan. Weee~~ I hope that someday I can visit Japan and celebrate my birthday there.

The
Golden Week
, also known as
Ougata renkyuu
or
Ougon shuukan,
refers to the long set of holidays people in Japan celebrate. It's like a long weekend here in the Philippines so Japanese are in a festive mood once Golden Week arrives. Many close their stores for around 10 days to around a week and many travel to different places, locally and abroad so tourist attractions are so hot during these special days. Also, airports and train stations in Japan are overflowing with people. It is hard to get reservations for accommodations and transportation during Golden Week.
So what are the holidays celebrated in the Golden Week?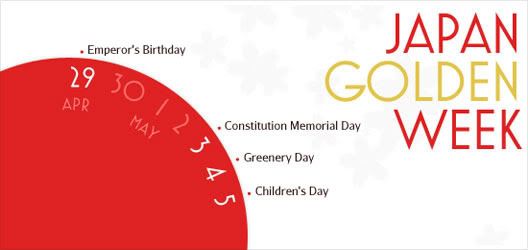 April 29 - this is the birthday of the former emperor Shouwa. This day is commonly referred to as Shouwa no Hi.
May 3- Constitution Memorial Day or Kenpou Kinen Bi, to commemorate the day when their constitution took effect in the country last May 3, 1948.

May 4- Greenery Day or Midori no Hi. A day meant to appreciate and love our mother nature.

May 5- Children's Day or Kodomo no Hi. On this day, we pray for the healthy growth of children. Children's Day is also called tangono-sekku. It's Japanese boy's festival and is traditionally the day to celebrate and pray for the health of boys. Japanese families with boys hang up carp streamers or koinobori outside because carps are believed to symbolize successes in children's lives. Also, samurai dolls called gogatsu ningyo are displayed in their houses.
They say that if you plan to visit Japan as a tourist, then Golden Week is the right day to do that. And since the Golden Week for 2009 already passed, you can always visit Japan next year.
Japan-guide.com
already has a schedule for the 2010 celebration of the Golden Week:

In 2010, the Golden Week will consist of an isolated public holiday (April 29) and a 5-day weekend (May 1-5). Travel activity is anticipated to peak on May 1 with people leaving the large urban centers and on May 5 in the opposite direction. Heavy traffic can also be expected on April 29 and May 4.
Sources
http://en.wikipedia.org/wiki/Golden_Week_(Japan)
http://gojapan.about.com/cs/japaneseholidays/a/goldenweek.htm
http://www.japan-guide.com/e/e2282.html