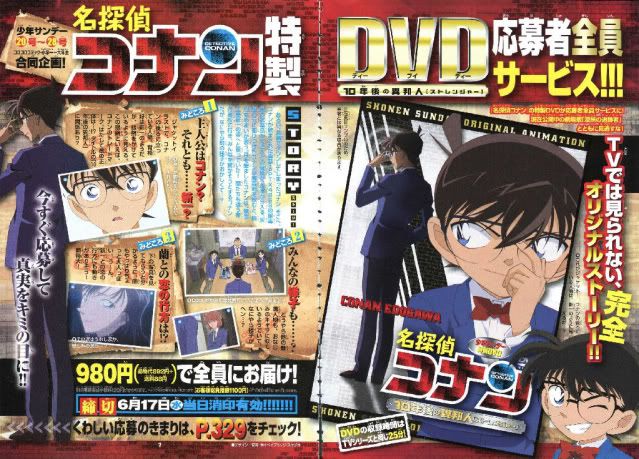 To all Detective Conan fans....
The 9th OVA of Detective Conan entitled, "Strangers from the Future" will be released on June 27, 2009. This OVA for Shounen Sunday will be released on DVD before coming out on TV. Basically, the story will answer the question "What if Conan and Haibara didn't take the antidote and continue on living their lives just as Conan and Haibara?"
This news came out in the latest Shounen Sunday Magazine. Many Detective Conan fans speculate that this OVA would just be another dream just like OVA 1. But as for me, whether its a dream or not, I am really interested in this upcoming OVA. The screencaps are intriguing me as it shows teenage Ayumi, Mitsuhiko and Genta and an adult Ran who is crying. Is it tears of joy...or tears of sadness? I've got tons of questions in my mind right now and nobody can answer me as of the moment. I guess I'd better satisfy myself with the 15-second preview and the scans from the Shounen Sunday Magazine.