Episode 16: A Comrade in Arms' Footseps
We take a little bit of break from the crack of FMA as Ed, Al and Winry discover the truth as to what happened to Hughes.
Even so, Havoc gladly announces the he has a girlfriend once again!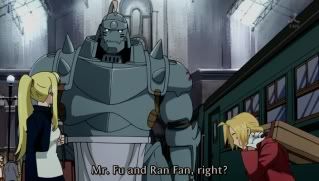 Ed, Al and Winry arrived at Central and the three of them would want to say their regards to Hughes. Winry went off to go to the house while Ed and Al decided to go to the military office first. Ling didn't do much in this episode, he was just arrested for being an illegal alien while his subordinates are still looking for him.

If you're wondering what happened to Barry the Chopper after being interrogated by Roy, he is being kept by Breda, according to the orders of Roy. Havoc brought him goods from Roy and passed him a very
sweet
message: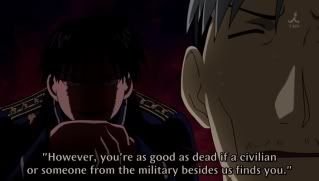 "
Sorry for putting in charge of such a dangerous task. Don't worry about military duty, though. I've marked you down as absent due to illness. However, you're as good as dead if a civilian or someone from the military besides us find you.
" -
Col. Roy Mustang
Speaking of Roy, he is spends time inside Room 3 where Sheshka works. He is so busy secretly investigating what Hughes is investigating at that caused him his life. Being overworked, he fell asleep for about 10 minutes.