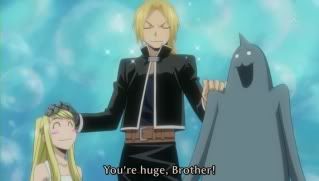 The Miracle at Rush Valley
This is Ed's another dream....to grow big!!! He wishes to have an automail that could help him grow taller!! Hahaha.
Oh, I am such a failure for not posting FMA earlier. This week has been so busy at work that everytime I get home, all I could do is to sleep. Anyway...let's move on with FMA episode 11.
So after the tragic episode 10 with Maes Hughes' death (and I still mourn for him), we continue with Ed, Al and Winry who are now heading to Dublith but made a stop at the heart of automails, Rush Valley. This episode is full of crack, comedy and fun courtesy of Ed, Al, Winry and Paninya. I can't remember the number of times I laughed when I am watching this one.
Aside from all the laughs, there are also serious moments especially when Winry saw what's engraved inside Ed's pocket watch: Don't forget, Oct.3 - the day when Ed and Al burned down their house. Also, there is also this moment about the mystery of life where Ed and Al saw a mom giving birth. Of course, people like the two of them are emotional when it comes to issues of life and living.
Next episode, Ed and Al meets their master! I am excited to see how will the readaptation present this one!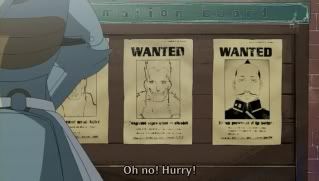 And oh...my favorite homonculus is about to come....I saw his face on the Wanted Poster!!!! Yehey!!!