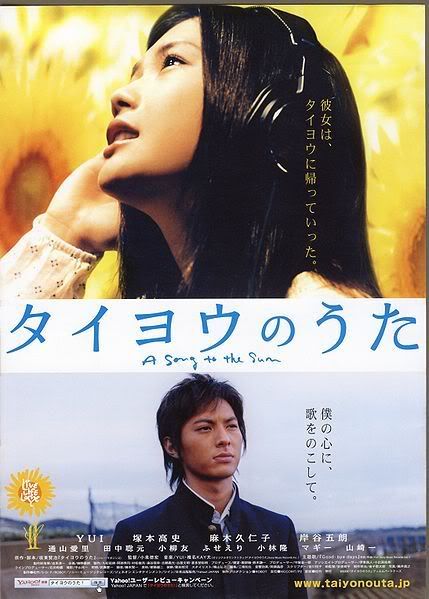 Song of the Sun (タイヨウのうた Taiyō no Uta), is a movie directed by Norihiro Koizumi starring the Japanese artist and singer Yui. In the movie, she plays the role of Kaoru Amane (雨音 薫 Amane Kaoru), a 16 year old girl who suffers from the rare skin condition xeroderma pigmentosum (XP), a disease that makes the ultraviolet radiation of sunlight potentially lethal to her. Yui's character is partly based on herself, as she is an amateur singer and guitarist, and she performs three of Yui's songs in the movie; It's Happy Line, Good-bye days and Skyline. There has also been a Japanese TV drama based on the movie, starring Takayuki Yamada and Erika Sawajiri.

Quoted from:

Wikipedia
Taiyou no Uta is probably the first Japanese movie that I've watched that wasn't horror. It was actually recommended to me by a friend who is an absolute YUI fanatic. The story is really touching and YUI's songs and her own voice give it more power and emotion. Everytime I hear Good bye days, I remember the film and it sometimes makes me shed a tear.

It's a good film that can be viewed by people with different tastes. Viewers will be moved with Kaoru's growth as a person and her struggle to pursue her dreams even with her illness.