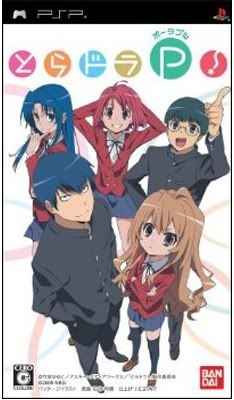 Characters starting from bottom-left corner, clockwise: Takasu Ryuji, Kawashima Ami, Kushieda Minori, Kitamura Yusaku and Aisaka Taiga
Toradora Portable! Is a visual-novel game that has been based from the anime... yep, you guessed it: Toradora!

In the game you'll be playing as Takasu Ryuji -- since he is the main character in the series. Although in the anime, he initially likes Kushieda; in the game's plotline, he gets amnesia and so his relationships with the other characters would be a clean slate. This gives the player freedom to choose whomever he likes to end up with. It sounds pretty much like your old-school dating sim, even in the official game description:

Taken from Play-Asia.com

The game was released last April 30, 2009. There was even a premium set called the Choudokyuu Premium Box which includes a DVD copy of never-seen anime clips, PSP case, PSP strap and PSP stand along with the game and those who pre-order would get a limited edition Nendroid Swimsuit Taiga with it (see images below). The price difference though was devastatingly high, talk about power marketing.

TAIGA'S DUMPLINGS ARE SO CUTE ;A;

What amused me while browsing through information on the web is that there would be instances that you'd be able to control Taiga in the game. As seen in this 'battle' screenshot:

Taiga beating up lovestruck guys! LOL
Overall though, what made me intrigued in this game is because I loved the series itself and the uber cute Taiga nendroid!; otherwise it's pretty much the same-old dating sim game to me. I doubt that there would be a US version of this anytime soon, if it does, I'll probably take the game out for a spin, just to see how it plays out.

In the end, RyujixTaiga is still my OTP >w<
General game information:

Original Name:
Release Date:
Apr 30, 2009
Sources: