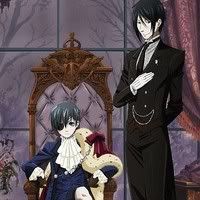 Sebastian and Ciel returns for a Season 2!
Kuroshitsuji Season 2 Confirmed by Voice Actor Junichi Suwabe!!!
Kuroshitsuji fans, rejoice! Season 2 of the anime is already confirmed and announced. This news came from Junichi Suwabe, voice actor of Undertaker confirmed in a recent blog entry following a special promotional event held last Sunday at the Tokyo International Forum, where this news was first heard.
Below is from Junichi Suwabe's blog post:

That's finally over – thanks a lot!

And then…

Kuroshitsuji…

Anime…

Second Season confirmed!

Look forward to it.
More about this news on this link:
http://www.sankakucomplex.com/2009/06/15/kuroshitsuji-2nd-season-announced/